Żabka stores will have TOMRA packaging collection devices
More than 45 billion a year - that's how much recyclable packaging goes to TOMRA Collection recyclomats located in 60 countries around the world. Now this huge number will be joined by more cans and bottles in Poland - thanks to the bottle machines placed in Żabka stores. The Polish chain has launched a pilot in Bydgoszcz to encourage consumers to better manage their waste. Thanks to them, more valuable raw materials will be recycled.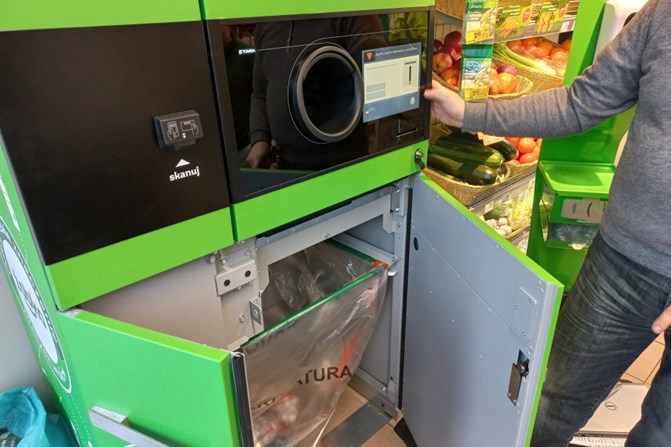 TOMRA Collection recycling machines have just stood in Żabka stores in Bydgoszcz. The chain is thus expanding its portfolio of stores where consumers can return used recyclable packaging. This is another step by Żabka towards changing habits and building a closed-loop economy.
- Żabka has an extensive network of stores that are close to where people live. And this, in turn, makes it convenient for everyone to donate empty packaging. While shopping, we can do something useful, adding our contribution to building a system in which waste is extremely valuable - says Konrad Robak, Country Business Development Manager at TOMRA Collection Poland. - Every year there are about 5 billion packages that are wasted, ending up in landfills or, worse, in the natural environment or on the streets. This definitely needs to be changed.
Simple recycling
TOMRA Collection, operating in more than 60 countries around the world, provides innovative solutions for returning beverage packaging - plastic, aluminum and glass - to be recycled into new bottles or cans and reused. By doing so, it can change and shape consumer attitudes toward treating waste as a valuable resource. With recyclomatics and digital solutions, recycling can become simple for large industry, system owners, retailers and consumers themselves.
- Recyclomats are one of the key collection tools, as they collect between 80 and almost 100 percent of all beverage packaging recycled. These are results from European countries with a deposit system. No other collection system achieves such levels - says Konrad Robak. - The average Pole throws away about 290 plastic beverage containers a year. Imagine that as many as 285 of them will be recycled and reused. We won't see these bottles in public spaces or landfills. By developing cooperation with Żabka, we want to jointly shape positive behavior among customers.
Small stores choose innovation
- Żabka was the first chain in Poland to introduce effective solutions that bring us closer to a circular economy. We decided to take the next step which is the "Green Renewal" project. Customers of our stores have the opportunity to donate disposable beverage packaging in all, over 120 Żabka stores located in Bydgoszcz. We choose experienced partners to implement our activities - one of them is TOMRA - says Joanna Kasowska, Director of Quality and Food Management Standards at Żabka Poland.
Innovative technologies support stores at different levels: collection, storage and logistics. At the collection stage, technological support is provided precisely by recyclers, which stores often opt for because of their efficiency and convenient and quick way of returning packaging. The machines count and analyze the containers, reject the ineligible ones and, above all, pay a deposit, usually in the form of a voucher, which the customer can use in the same store.
M1 vending machines
Żabka's customers will be able to use M1 machines - the smallest vending machine on the market, occupying just 0.62 square meters, which recognizes, sorts and stores glass, plastic and metal packaging. M1 has been appropriately designed to meet the current needs of the Żabka chain. The machine picks up two types of containers - PET bottles and cans - and connects to Zabka's mobile app - Żapps. Instead of a paper voucher, customers will receive a digital payout in the form of Żapps. To start the session, they must scan a personal barcode from the app, put the bottles or cans into the recycling machine, and then the appropriate amount of Żapps will be added to their account.
The vending machines also offer convenience for store employees. They include an on-screen wizard with clear cleaning instructions so as to maximize the time spent cleaning. In addition, the Notify & Assist app helps retailers monitor the machines in real time, while notifying them when the garbage cans are full.
Source: Plastics Online